Description
Have you often trouble in visiting the gym in assigned time slots? If yes, then you have come to the right place. Try the Telebrands Revoflex Xtreme for this purpose. The Revoflex Xtreme is the revolutionary exercise machine that has worked for hundreds of thousands of people across the globe. This versatile machine helps the individuals to re-shape their bodies, improve the circulation of blood and enhanced the fitness level in a natural way. You can use this easy to use apparatus at any time of the day regardless of the locality.
All the users can use the Telebrands Revoflex Xtreme in the homes and professional gyms for strength training. The best thing about this exercise machine is that it poses less chances of injury even during intense workout sessions. Doing exercise with this versatile machine is very comfortable and you can perform a variety of exercises with this versatile machine. This exercise machine helps to increase the heartbeat during the cardiovascular exercise training that helps to remove the fat deposits from the body.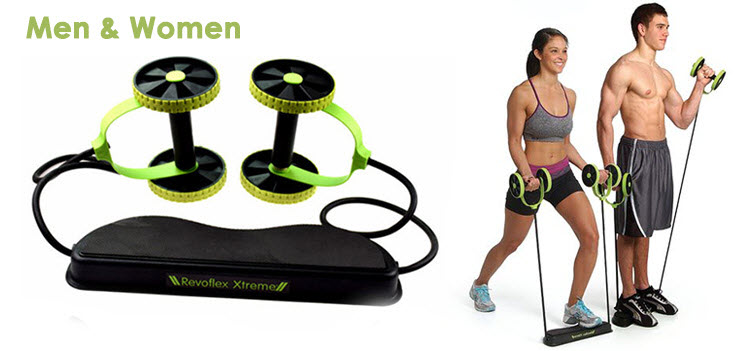 Users can perform a number of exercises with the Telebrands Revoflex Xtreme for the particular muscles category. You can get numerous benefits with this one piece machine, because it is extremely flexible and the ideal machine for the total body workout. You will really feel the difference by doing exercise with the Revoflex Xtreme for just 5-10 minutes in a day. Moreover, all the results of this machine are 100% permanent.
The Telebrands Revoflex Xtreme activates the number of muscle groups as the Back Muscles, Abdominal Muscles, Glutes, Thigh Muscles, Shoulder Muscles and Arm Muscles. The tension of the power bands can be increased by the user for a more intense workout. This versatile machine offers 40+ exercises with 6 different training levels to tone your body muscles. This machine can be purchased from the official Telebrands Pakistan website at Telebrand.com.pk.
Additional Features of the Telebrands Revoflex Xtreme:
Multipurpose machine to tone your body muscles in your home

The machine helps to tone the 5 major muscle groups of the body as the shoulder, arm ,triceps, chest and thighs

Adjustable tension of the power bands

Simple and easy to use

Reliable, durable and portable

Stylish Design
Technical Specifications of the Telebrands Revoflex Xtreme:
Material: Highest Grade Durable Plastic

Dimensions: 16 x 7.1 x 4 Inches (L x W x H)

Weight: 500 Grams (approx.)

Available Color: Green
What you will get with the box of Revoflex Xtreme?
1 x Revoflex Xtreme
1 x Workbook
1 x Instruction Manual
آرڈر کرنے اور مزید تفصیل کے لئے مندرجہ ذیل نمبروں پر کال کریں
0321.4115583  – 0333.4115583